Marketing strategies are the holy grail for most companies. With a diverse pool of marketing tactics, methods, and platforms to use these days, it could be challenging to choose which ones would result in a faster Return of Investment (ROI). And if you've selected to leverage outbound marketing more than inbound, you'll need to choose the best approaches for your business.
With outbound marketing, you get to take the first step towards your customers. There is no specific targeting or personalization required with such strategies, as long as you get your brand and message exposed to as many potential customers as you can. Surprisingly so, when done right, these outbound marketing strategies convert to sales and revenues and exceed the forecasted ROI.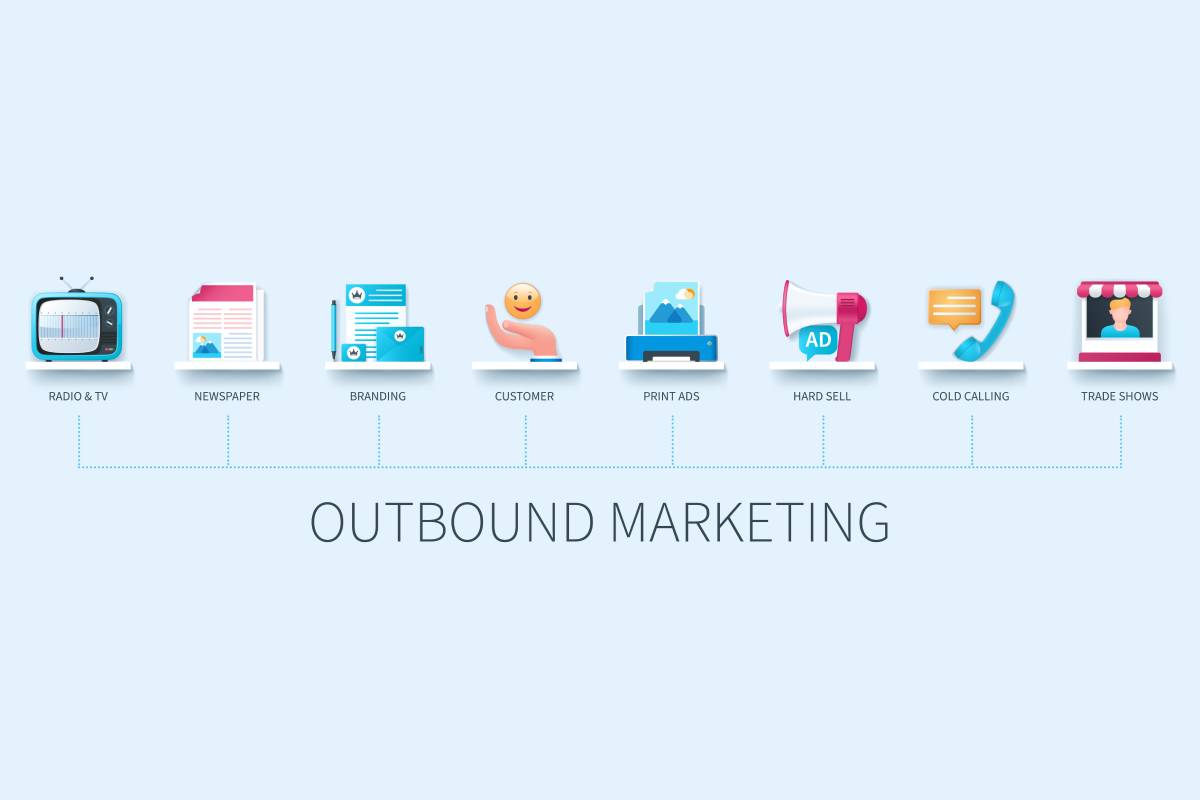 To get you started, consider applying the following outbound marketing tactics:
1. Cold-Calling
As long as the telephone has existed, cold calling has been practiced ever since. Some businesses may have thought this tactic has reached its endpoint, but the truth is, this old but gold method is still effective now. Representatives of companies use this technique to introduce themselves to prospective customers. In an unsolicited phone call, you have no way of knowing how the other end of the line will react.
This strategy requires careful execution as it can be specifically applicable depending on your business and industry. But when done right, this allows you to acquire leads, prospects, and even closed deals. Companies using this outbound marketing approach should invest in technology and phone systems that are convenient and timely, like the Power Dialer. Sales reps and cold callers can now contact their list of leads anytime, anywhere, with various functions and support.
Here are some more benefits of cold calling:
The fact is cold calling is an excellent way for new sales reps to practice their calling techniques and approaches. Sales pitches can be mastered and modified through multiple calls made every day. Having real-time feedback from prospective clients can also help you adjust your pitch once you've had a few conversations.
Whenever you execute cold calling, you should use a script that has been tried and tested and promotes your product effectively. This allows you to stay consistent with your company's standards. Similarly, other people would feel that your brand is consistent through uniform information and expertise shared with them.
The effectiveness of cold calling can be immediately measured. It is possible to view the number of calls your salespeople make and the number of prospects they speak with through outbound sales software. At times when the number on their list can't be reached, your team can utilize ringless voicemail software so they can create and send voicemails in an instant.
This also allows you to track how many voicemails or calls you've made. You can measure the number of appointments you've booked. Moreover, calls can be recorded and played back for quality control and improvements.
2. Direct Mail
Some businesses may wonder if direct mail marketing is still a great way to generate leads in today's digital age, and most of them still believe so. Direct mail still holds the power to connect to your customers straightforwardly. This is particularly effective if you have fewer targeted individuals. You can do a follow-up by using the direct mail strategy.
Marketing teams research potential markets by segmenting them based on demographics, psychographics, behaviors, and geographic locations. By doing so, you can precisely get to know more about your target market, as they're the ones who are likely to purchase your products. Your sales are almost guaranteed when you target a group with a higher likelihood of buying.
Setting realistic goals and conducting tests allows your team to determine the best course of action for your customer base. When implementing the right direct mail strategy, it's crucial to decide who your possible consumers are and make sure that they still read their mail letters.
3. Tradeshows
Organizations use tradeshows to meet prospective clients, convert prospects, or retain existing customers. There are many ways to implement this marketing strategy. Either your company hosts an event, participates in one, or collaborates with others.
However, when conducting tradeshows, it's essential that your team markets and advertises the event very well early on. And since this strategy is being used as your outbound marketing, you need to be sure to relatively expose the event to all of your possible target audiences. Outbound marketing usually targets a broader audience, requiring heftier costs initially.
But this usually pays off, considering how much the converted sales will be at the end of the event. And even if some sales weren't closed, this kind of outbound marketing still works for you because more people have noticed and distinguished your brand now. Hence, allowing you to hit two birds with one stone.
4. Printed Ads
Considering the emergence of digital marketing, you might think that the printed ads strategy is no longer relevant. Print ads are still highly effective for smaller businesses with a local presence. You shouldn't have to spend too much money on these ads, and if you target only those in your community, it's a great way to promote your local business. Imagine handing out pamphlets in your local neighborhood to broadcast about the schedule of your business launching, these people living within the proximity will most likely be intrigued and informed about it.
Digital advertising is on the rise because the internet makes it affordable for businesses to promote their products and services. To be successful, online marketing needs to be complemented by print advertising. In this day and age, many people still read printed ads in newspapers, magazines, and other mediums.
Here are some more reasons why your business shouldn't disregard marketing through printed ads:
The demographics of a small business's loyal customer base are broken down by success. To target the demographic base of their customers, business operators place printed ads in publications read by the target audience after learning their primary demographics.
For instance, health-conscious people may have subscribed to a wellness magazine considered a top authority and expert in the industry and subject matter. You can advertise your wellness products in this magazine as the readers will likely view your advertisement. Consequently, advertisements printed in magazines or other paper formats still hold power.
Print advertising strengthens the reader's reward-driven neural activity, so they feel good about themselves after reading it. Printed ads come with a compelling call-to-action method that evokes the customer's interest and curiosity—creating a need and satisfying that are all possible thanks to the dopamine secreted in the brain during a person's neural experience when reading prints.
Unfortunately, some online marketing campaigns are perceived as misleading by some viewers. Due to fake news and unreliable sources, some people hesitate to believe what they see online. On the contrary, printed ads don't have the same perception. Print remains the most reliable marketing source up to date.
There are no pop-up ads that promote unwanted products and services in print advertising. When you place your print ads in a reliable and credible magazine or newspaper company, your customers can give you the same trust. This allows you to get on their good side.
5. Email Marketing
Email blasts are still effective now. Despite social media's dominance, email usage is still growing. Emails can be created and sent quickly with the correct email marketing capabilities. There are many kinds of content that you can incorporate into your email blast. You can even use images in your email marketing campaign.
It could be discounts, high-quality information, sale announcements, and so on. When you include an offer for something free in the marketing email, you have a much better chance of grabbing the recipient's attention.
You can reach your target audience with a strong email marketing strategy and increase sales at affordable prices by connecting with them in a personalized way. With email marketing tools, businesses can reach customers more effectively than ever before, just as other platforms and media have changed. These are some reasons why you need to engage in email marketing:
Emails have become one of the staple communication platforms for people worldwide. People have spent more and more time communicating via email as the years have passed. It has become a habit to reply to emails in some way. Whether replying, forwarding, clicking through to another embedded link, deleting, buying something, or signing up. So, today's the time to incorporate email marketing into your outbound marketing strategy.
In terms of lead nurturing or sometimes called lead marketing, it's without a doubt that email marketing is effective in this way. There are varying stages in the buying cycle for your potential customers. While some customers are in their comparing stage, some are on the verge of buying your products, so creating email content to specific individuals depending on their stages will allow you to increase converted sales eventually.
By using and maintaining your list correctly, along with your email marketing, you can reduce your overall cost and improve your ROI. Personalized emails will increase engagement and conversion rates while simultaneously decreasing email costs. With the advancement of technology, email software allows you to pay a minimal amount and get to email a lot of your target audience in a few seconds.
6. Video Advertisements
There are expert predictions on the future of video marketing for many businesses. Video advertisements are also an effective outbound marketing strategy to help your business. Your marketing videos will amaze your audience if you put some planning and creativity into them.
With the high percentage of people using their gadgets like laptops, tablets, and smartphones every day, chances are they watch a lot of digital videos online. For this reason, advertising in digital video is the future because it allows advertisers to connect with audiences in formats they prefer. Here are some aspects of why digital video ads are a must for your marketing strategy:
Movement and sound are two things that catch users' attention in video ads. They both contribute to conveying a compelling message, thus resulting in better engagement.
Many users post, share, and comment on video content, aside from texts and photos, on social media platforms. They also share them with many of their friends on other social networking sites. Video ads are foreseen as exciting and engaging as long as you make them as relevant as possible. People will definitely watch and share them if they're creative, unique, and appealing to watch.
7. Radio Ads
The power of radio lies in its audio-based nature. When executed professionally and flawlessly, listeners can relate to the advertiser's message. Radio ads are economical, targetable, easy to track, and highly effective if done correctly. Business owners and entrepreneurs can benefit from using the radio for advertising campaigns for the following reasons:
Cable television advertising is more expensive but has a similar reach to radio advertising. Most car drivers in many countries still listen to radio stations while driving to and from work or getting stuck in traffic. Radio advertising relies on repetition, and the low cost enables you to run multiple ads, resulting in better results.
By utilizing the services of a radio station to produce your ad, you can create a radio ad quickly and easily. It's very convenient to develop, requiring fewer tools and props than creating TV ads.
Radio stations are constantly studying listener profiles to determine which demographics listen to their shows and advertisements. There is a peak advertising time during the morning commute or even during the after-work hours. Depending on where you are located, you might even be able to use the lamentable rush hour to your advantage as more people tune in for more extended periods.
Conclusion
While many businesses are focusing on inbound marketing strategies, the different outbound marketing strategies mentioned above have proven how similarly effective they are in leveraging your business' ROI. Utilizing all of them together is a surefire way to increase your leads and close more deals. Hopefully, you can apply some if not all of the tactics listed in this article.