Are you eager to know about Creations by Kara Home Decor Recipe Craft DIY Blog? Well, Creations by Kara is a website blog that offers guidance on home décor projects, craft projects, and recipes and Kara is the creator of this website. Kara's website has gained excellent popularity in different parts of the world. She is an artistic personality who likes to share ideas about cooking, some simple but attractive craft projects, DIY tutorials, and tips and tricks to decorate a home.
Even though Kara's website has got huge recognition because of her excellent cooking skills, you will find other creative areas on her blog website, including artistic and attractive craft ideas and useful home décor ideas. To learn more about this creative personality and her blog "Creations by Kara", continue reading this article.
On her blog website, Kara introduces herself as a cook, crafter, photographer, writer, DIY guide, and mastermind of the website. Her love for cooking began when she was just 8 years old. She shares recipes and projects that a beginner can also do. Her blogs are also pretty much engaging. The most interesting thing about her is that she inspires people to make something new and amazing. She makes things pretty simple and uses basic ingredients to make delicious recipes. She also loves baking and prepares homemade cookies and bread. She is also passionate about crochet work, painting, sewing work, and artistic home décor. In short, she loves organizing everything creatively.
About Creations by Kara
Kara started blogging about different recipes in 2006. One year later, she launched another blog to share craft projects and home décor tutorials. In 2008, she merged the two websites and launched "Creations by Kara".
Interestingly, this blog website was able to attract visitors and it became Kara's full-time business. Her recipes and projects have been published in various magazines, including Huffington Post, Country Living, Woman's Day, Redbook, Buzzfeed, Food & Wine, Deseret News, Delish and more. She has also been getting positive reviews from her readers.
Five Pillars of Creations by Kara
Creations by Kara home decor recipe craft DIY blog website has five sections: Recipe Index, Tutorials, Freebies, Holidays, and Tips & Tricks. Every section contains a variety of sub-sections; in each sub-section, you will find plenty of content.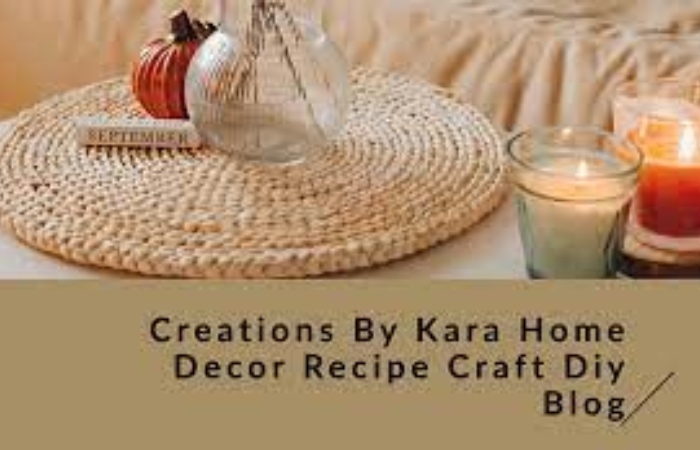 1. Recipe Index:
Under the Recipe Index, Kara shares various food recipes and guides her audience about how to prepare those recipes. The Recipe Index section includes different sub-sections, such as Appetizers and Snacks, All Bread Recipes, Breakfast, Crock Pot, All Dessert Recipes, Drinks, All Holiday Recipes, Instant Pot Recipes, All Main Dish Recipes, Low Carb Recipes, Low Carb Recipes, Restaurant Recipes, Salads, Side Dishes, Soups, and Non-Food.
2. Holidays:
Kara offers some interesting ideas to celebrate holidays under this section. She has posted numerous contents on seven holidays, including Christmas, Easter, the 4th of July, Halloween, Thanksgiving, St. Patrick's Day, and Valentine's Day.
3. Tips &Tricks:
This section does not focus on a specific thing, instead, it offers tips and tricks about how to organize a home, how to save money, how to make cookies and cakes, etc. Most of all, Kara's website has plenty of exciting and interesting ideas to offer you. Creations by Kara not only offers you ideas about cooking or home décor but also inspires you to make something amazing and be creative.
4. Tutorials:
This section includes various home décor, craft, and sewing ideas. Under the section "Tutorials", you will find five different areas, such as Craft Tutorials, Holiday Tutorials, DIY Project Tutorials, Sewing Tutorials, and Home Décor Ideas.
5. Freebies:
The Freebies section also offers guidance about home décor and craft ideas. However, in this section, Kara also offers free downloadable patterns, printable gifts, and Amazon links to get different supplies. The four areas of this section are Free Patterns, Printable Gifts, Holiday Printables, LDS Printables, and Printable Home Décor.
Random Facts About Kara:
Kara belongs to the Church of Jesus Christ of Latter-Day Saints and is a practicing Christian. She doesn't consume alcohol or coffee.
She adores reading! From a young age, she had a passion for it. She finds travel to be rather stressful. Kara enjoys visiting exciting new places.
Kara enjoys planning. She has lists, buckets, and boxes all around her home.
Kara has never had a pedicure done by a professional since she hates having anyone touch her feet.
Kara finds housekeeping to be enjoyable. Other than emptying the dishwasher and tidying up stray items from the floor. She does the dishwashing for her husband, and kids, and makes them do it.
Sadly, she once developed kidney stones while visiting Hawaii. During her anniversary. Not great.
She lives in Utah and experiences seasonal affective disorder. It's not the finest mix, but Kara can't go because she loves everyone there.
Conclusion:
Kara enjoys encouraging women to explore their creative potential. Her blog, Creations By Kara Home Decor Recipe Craft Diy Blog, has DIY projects, home decor inspiration, craft lessons, and recipes. She thinks everyone can create something lovely to be proud of, whether it be in the kitchen, the craft room, or the garage, and she thinks that if she can do it, anyone can.
Also Read: Do you Know 12 Benefits of Drinking Buttermilk Daily? [2023]